Upcoming Events
Click event to open
OPEN Daily 8 am to Dusk
In 1908 two brothers used a small legacy to acquire their country home near Gladstone, New Jersey.
The two brothers, Henry and Robert Tubbs, and Henry's adopted son, Dr. Benjamin Blackburn, developed this country place into the Willowwood Arboretum, New Jersey's most comprehensive and longest continually operating Arboretum.
Since 1980 under the stewardship and management of the Morris County Park Commission, the Willowwood Foundation and the support and hard work of countless donors and volunteers have made it possible for the public to enjoy this beautiful green space of gardens and meadows.
Willowwood Arboretum and Bamboo Brook are open daily free to the public from 8 am to Dusk.
*** NO DOGS ALLOWED ***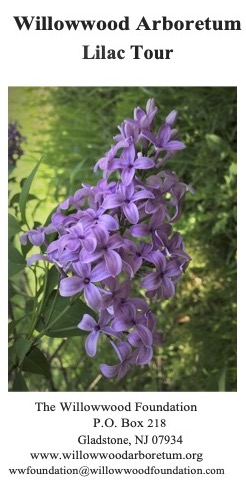 Meryl Carmel, President of the Willowwood Foundation Board of Trustees, hopes you will click on the following link to get the latest updates about the Willowwood Foundation: Messages from the President page.
Spring '22: New Lilac Tour Brochure
We are happy to highlight a new Lilac Tour Pamphlet that was completely revised and updated for 2021.
Willowwood Arboretum's lilac collection is quite famous, so take the opportunity to download the brochure and visit during lilac season this year.
Click here to download our new Lilac Tour Brochure.
Enjoy Spring at the Willowwood Arboretum.
Marta McDowell Article About Willowwood
Marta McDowell, the noted botanical author and landscape historian, has written a fascinating history of Willowwood Arboretum for the UK publication Hortus 136 (Winter, 2020). We are pleased to offer a pdf of the article (click the image at left) with the editor's permission.
Be sure also to visit the Hortus website: hortus.co.uk for more information about this fine gardening quarterly.
Cell Phone Tours Resume April 1, 2022
The Willowwood Foundation and the Morris County Parks Commission partnered together to implement a tour of the key highlights (core gardens and buildings) at the Willowwood Arboretum via your cell phone. Visitors simply dial 973-349-3020 and begin their walking tour, stop by stop, listening to short audio clips about each place of interest. This technology is very similar to audio tours found at museums etc.
An exciting new addition debuted in 2018 includes a new walk highlighting the relationship with the Tubbs and E.H. 'Chinese' Wilson, plant explorer extraordinaire. Starting about 1928 when E. H. Wilson became 'Keeper' (Director) of the Arnold Arboretum, the Tubbs and Wilson exchanged letters with plant advice and commentary as well as seeds and plants. Today, Willowwood displays a collection of some of the plants Ernest Henry Wilson (1876-1930) brought back from his trips to China. See our Cell Phone Tab for more information, as well as this article from The Plantsman (Sept. 2018), People behind the plants: Ernest Wilson.
Willowwood's beauty is clearly evident, but its fascinating history is not. Using cell phone technology helps us to share the story of Willowwood Arboretum with visitors and provide in depth plant information. In 2014, Rob Diemar, Past President of the Willowwood Foundation noted, "The Willowwood Foundation is excited to have been able to work with the Morris County Park Commission to introduce the first cell phone tour to Willowwood Arboretum. This project (funded by Dan Will, Trustee emeritus) brings Willowwood into the 21st century and provides guests visiting the Arboretum an opportunity to learn so much more about its rich history. This will truly enhance the visitors experience at Willowwood."
To see a map of the Cell Phone Tour Stops, click here or on Cellphone Tour in the Menu Box.
---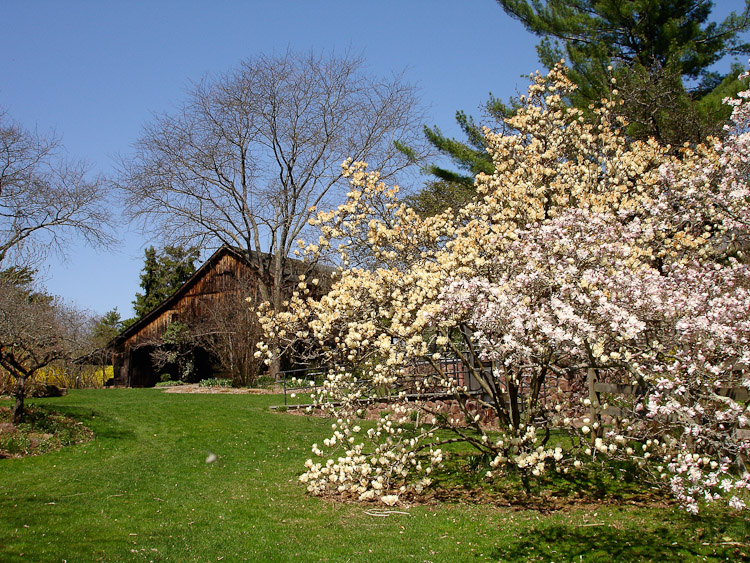 Visitors are invited to enjoy the gardens Spring through Fall. During Winter, the Ornamentals Collection offers evergreen and deciduous plants featuring interesting fruit, bark or branching habit.
Willowwood, 130 acres of rolling farm land, has about 2,100 kinds of native and exotic plants, many of them rare. In addition to the formal gardens near the residence and undisturbed forest, historic collections include oak, maple, willow, magnolia, lilac, cherry, fir, pine, a superb specimen of Dawn Redwood (Metasequoia) now more than 98' tall, masses of ferns and handsome stands of field and forest wild flowers.