Our Current Tour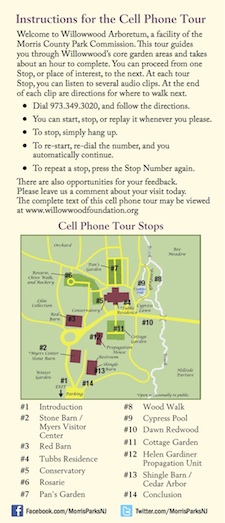 During April through October, when you visit Willowwood, you can join us on on one of two self-paced cell phone tours: one of the core garden areas and buildings within the Willowwood Arboretum and the second, a tour of plants collected from China by E. H. Wilson, famed plant explorer. Each tour takes about an hour and will make a number of stops where you will hear details of the history and horticulture. Beginning at Stop 30 you will hear a description of each of the Living Sculptures by Seward Johnson.
Robert and Henry Tubbs were avid plant collectors and they corresponded with many of the plant explorers of the time (in some cases a horticulture oriented 'Indiana Jones') who traveled far and wide to distant and remote areas of the world in search of new plants and seeds. E.H. 'Chinese' Wilson (1836-1930 — see a brief Wilson biography by Lesley Parness here) was one of the more famous whose four trips to China (during treacherous times as Westerners and missionaries were viewed with deep suspicion) resulted in hundreds of new plants and thousands of packages of seeds. Via letters, some of which still survive, Robert and E.H. debated the merits of plants and some of these plants and seeds were sent to Willowwood to integrate into the gardens. Some of these plants or their progeny still survive and these are the ones you will learn about on this tour.
Believe it or not, today, there are still plant explorers (amateur and professional) in the US and other parts of the world finding new plants, collecting seeds and exchanging them with other arboreta and botanical gardens. In fact Arboreta throughout the world contact Willowwood each year to mutually exchange seeds and plants to enhance and diversity their collections. Read more about plant explorers in this Valerie Sudol Star-Ledger article.
Click on the image at right to enlarge the instructions and a map annotated with the stops and stop numbers. There is numbered signage at each stop as you walk along and you may start or stop at any point in the tour.
Or if you are planning to visit, take a "virtual" tour and call 973 349 3020 from your home or cell phone, and this very descriptive narrative will help you pre-plan your walk around this wonderful treasure.
You may also download three Step by Step Tour Guides which provide full instructions plus a readable script for each stop on each cellphone tour: (click to open).
Other Resources: