1. Contact Information:
2. Garden and Corporate Volunteers:
GardenWorks – Willowwood always needs many helpful hands to clean up debris in the gardens and through the trails Spring through Fall. Plus maintaining Willowwood's beautiful gardens takes constant dedication and enthusiastic teamwork – year 'round! The Horticulture Staff is very grateful for the help of Corporate teams as well as the weekly hands on Gardenworks Program Volunteers comprised of Friendly Master Gardeners and Happy Amateurs who learn and work together at the gardens one weekday morning (Wednesday at Willowwood, Thursday at Bamboo Brook) assisting our horticulture staff.
Many local companies have helped by bringing their corporate teams for a "work day" at Willowwood and have performed miracles. A great day in the Outdoors and the Opportunity for instant gratification! Contact Volunteer Coordinator Aaron Murray at amurray@morrisparks.net
Or for more information on either program: Visit www.morrisparks.net/
3. Willowwood Arboretum: Positions & Internships Available
Various positions in a wide range of horticultural and grounds maintenance activities within the Morris County Park Commission may be available at any point in time.
Each year the Willowwood Foundation funds internships at the Willowwood Arboretum, helping one or more individuals obtain practical hands on gardening experience. Beginning early Spring to late Fall (internships can run 3-8 months) paid Interns (full or part time) are admitted on an as needed basis and must possess a keen interest in horticulture and enjoy working outdoors.
If interested in MCPC positions or Internship, go to the Morris County Park Commission employment page for detailed position descriptions as well as instructions for online application.
4. Donations
Donations are gratefully accepted. Go to our Donations Page for check or credit card contributions.
The Willowwood Foundation is a non profit (Section 501(c)(3) under the Internal Revenue code, FED ID#22-6027161. All donations are tax deductible as allowable by law. The Willowwood Foundation was initiated through the generous bequests of Dr. Benjamin Blackburn and Russell Myers.
Please contact us if you would like to establish a tax deductible estate bequest to the Foundation. Our work to preserve the Willowwood Arboretum is only possible because you are committed to this very special Treasure as well. Your gift is a powerful support and is greatly appreciated by the Board of Trustees and the Horticulture Staff.
Double the impact of your gift to the Willowwood Foundation as it could be matched dollar for dollar by your employer! Many employers sponsor matching gift programs and will match any charitable contributions or volunteer hours made by their employees, retirees and/or employees' spouses.
Click on the image at right for a list of Matching Gift employers we are aware of.
5. Interested in Party/Wedding Rentals?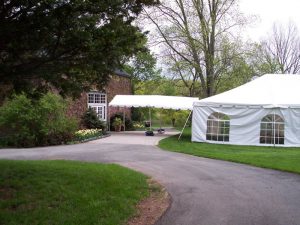 The Seasonal Gardens are glorious and perfect for photo ops. Willowwood's Stone Barn and gardens or Bamboo Brook with its beautiful reflecting pools can be the tent setting for your perfect party—wedding, birthday, anniversary, etc.
Our Willowwood News page has recent articles from New Jersey Bride and Black River Journal about two couples weddings at Willowwood Arboretum.
The Morris County Park Commission offers a full complement of resources and services for social, private and corporate functions. A few dates are still available for 2021 but now booking 2022 and 2023.
Visit MCPC Event at http://www.morrisparks.net for more information on turning your party into a magical event.
6. The Willowwood Store
Check out the Willowwood Store for books, TIES!, plant labels and native plant seeds.
7. Subscribe to Our Newsletter
Click here and fill out the form to subscribe to our newsletter and other notices.