The Willowwood Foundation is proud to announce the finalists in the Spring, 2012 Daffodil Photo Contest.
Dan Will and Ray Rogers, Willowwood Foundation Trustees noted that there were several hundred submissions by local amateur photographers ­ all views of the Daffodil Collection at the Willowwood Arboretum this past Spring.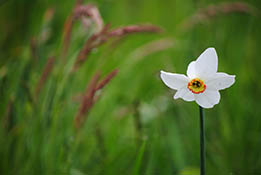 1st Prize Winner
The following photos were selected and then placed on display during the Mother's Day event at Willowwood and at the 'Lilac Party' for visitor voting. The winner is Ashton Temples – a photo of a single daffodil. Michael Harnett was second and Gene Moretti had two of his photos tie for third place.
The Willowwood Foundation is sponsoring a photo contest in the Spring of 2013 featuring photos of the Magnolia Collection at Willowwood.