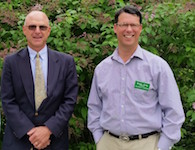 Brace & Bennett
The Willowwood Foundation was delighted to host Mr. Bennett Saunders, Saunders Brothers Nursery, Piney River, VA as the 2nd Annual Tubbs Lecture Speaker.
As Vice President of the American Boxwood Society, Mr. Saunders spoke eloquently about healthy boxwood culture, the challenges and management of boxwood blight and graciously provided a guidance and research link: (http://saundersbrothers.com/_ccLib/attachments/pages/Saunders+Brothers+Catalog-.pdf) to the sold out audience. He also donated 18 Buxus sempervirens 'Dee Runk' to Willowwood. 'Dee Runk' is an upright-growing cultivar that is reported to be somewhat resistant to boxwood blight.
John Morse toured Willowwood's boxwood plants with attendees after the lecture. Click here for a list of plants on the tour.