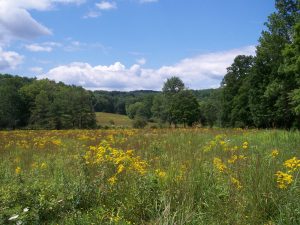 "I'm so glad I live in a world where there are Octobers."
― L. M. Montgomery, Anne of Green Gables
The beauty of the autumn season has begun and visitors may now enjoy the arboreta during standard operating hours, daily from 8AM to dusk. The maples, dogwoods, and katsura are all changing color at the Willowwood Arboretum and the Bamboo Brook Outdoor Education Center. For those who are able to detect the sweet scent of yellowing katsura leaves (Cercidiphyllum japonicum), they will be delighted by the fragrance along the meadow near the Stone Cottage and on the Woodwalk path before the small stone bridge at.
The late season perennials in the garden are still going strong despite the chilly evenings. Some favorites that are blooming include the Black-Eyed Susans (Rudbeckia spp.) in the Cottage Garden, asters (Symphyotrichum spp.) in the meadows and cottage garden, and white and pink Japanese anemones (Anemone spp.) throughout the core gardens.
One show stopping annual in particular has been delighting visitors in the Cottage Garden this season. Several stalks of red amaranth are towering over other plants in the garden at over 7 feet! The feathery plumes are a rich reddish purple and draw attention like a waving flag. It is also lovely to look at the leaves as the sun shines through them as they take on an appearance of pure red stained glass. In addition to being an attractive plant, amaranth leaves and seeds are edible! The Cottage Garden once served as a kitchen garden for the Tubbs family who lived at Willowwood. Although they would not have grown amaranth, as it was not introduced into the United States until the 1970's, the tradition of including vegetables, fruits, and grains among ornamental plants carries on.
The first hard frost will likely arrive in the next few weeks. The meadows have already evolved into shades of yellow, tan, brown, and purple and will offer movement and texture during the winter as the wind sweeps through the plants putting their seed heads into motion. Many shrubs and trees have also set fruit and birders will continue to see a variety of birds visiting the arboretum for sustenance during the months ahead. Meanwhile, the garden staff will continue to prepare for next spring and look forward to the next growing season.
Zinnia Cheetham
Plant Records Curator Specialist