Greetings and Happy Spring,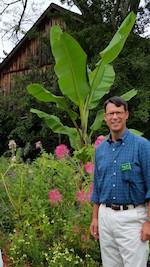 With spring in the air, lengthening daylight hours and the awakening of the natural world, I'm feeling my energy begin to return after a year like no other. Like many of you, my attention this time of year turns to the garden and our hidden Gem, the Willowwood Arboretum.
The gardens at Willowwood Arboretum are timeless. Mark Inzano, Manager of Horticulture, and his team, are hard at work preparing Willowwood for the "busy season". A semblance of normalcy has returned to the Arboretum, however, the Foundation has decided to defer the Tubbs Lecture, Mother's Day Open House and Lilac Party to Spring, 2022. Like most gatherings, guidance from CDC, state and local authorities has upset the cadence and new normals are being established. We all look forward to the resumption of these event dates at the earliest possible time and will communicate accordingly.
Through social media, linked websites and the Morris County Park Commission website, all available at: www.willowwoodarboretum.org/links , a plethora of information and updates are available regarding the dynamic environment and opportunity to experience the Willowwood Arboretum. The bloom report www.willowwoodarboretum.org/weekly-bloom-report compiled by stalwart Morris County Park Commission Plant Records Curator, Zinnia Cheetham, provides wonderful Willowwood specific seasonal updates.
While I would much rather invite you to events in person, these virtual resources continue to serve us rather well. As always, I would like to thank our donors as none of this would be possible without your support. If you feel connected to Willowwood, our mission or the team of dedicated stewards who manage the resource, please consider supporting our efforts. The Willowwood Foundation is a certified 501 © 3 for purposes of gifting and is eligible for Corporate Matching.
Warm Regards, Brace Krag, President, Willowwood Foundation